5 Major Google Penalties and How to Avoid Them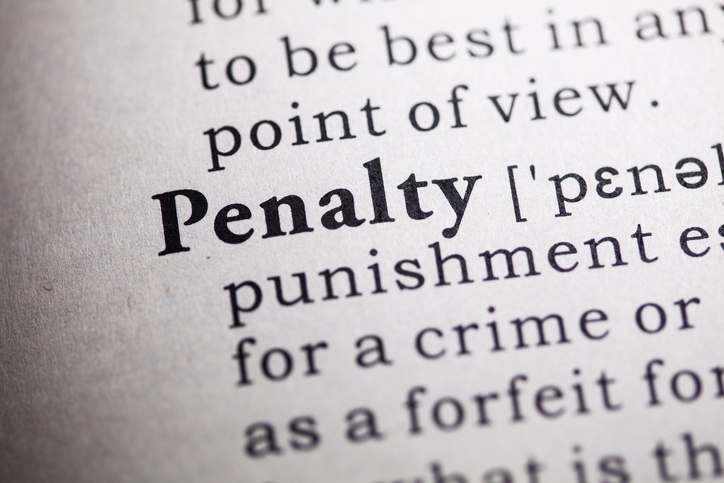 Google can bestow life upon your business, granting search results that help you sell your products and services and outmaneuver competitors.
Well, it can — as long as you avoid the dreaded Google penalty.
The penalty happens to websites that run afoul of Google's primary purpose of helping web searchers find what they're looking for. Google's algorithms decide which websites and individual pages rank highest in search results. Sites that play by Google's rules can earn higher rankings. Violators can get kicked to the curb. 
The Google penalty has three principal objectives:
Discouraging spammy content, unscrupulous gaming of Google algorithms, and piracy of movies, music, and software.
Giving publishers an incentive to produce original, high-quality content that informs and engages.
Encouraging webmasters to make their sites more mobile-friendly.
As long as you keep providing high-quality content people can't find anywhere else and you don't do anything sneaky to game Google's algorithms, you might never encounter the penalty.
But many companies have found, to their dismay, that conduct Google once condoned for years has suddenly become forbidden — and enforced by punishing tweaks in the search giant's algorithms.
Once Google puts your site in the penalty box, it can take months to get back out. That's why it behooves every website publisher to understand the contours of the penalty.
The Google penalties to avoid most
SEO experts say these five Google penalties are among the most important:
1. Spammy and duplicate content
Back in 2011, Google released its Panda update, which deliberately downranks low-quality content. Before Panda, it was easy for publishers to flood websites with hundreds or even thousands of articles that had little or no useful information.
Instead, they often used content plagiarized from other sites and/or packed with popular keywords designed to lure searchers to pages and entice them to click on ads.
Panda put a bullseye on so-called "black-hat" SEO operators who built a cottage industry around gaming Google's algorithms for fun and profit (mostly profit, since it was no fun encountering this crappy content online). Websites around the world took a beating from the Panda update — some of them innocent victims of slimy black-hatters — and some have still not recovered. 
2. Mobile unfriendly design
In 2015, Google started penalizing sites that failed to optimize for searchers using mobile devices. The penalty aims to encourage responsive design that enables webpages to load quickly and easily on smartphones and tablets.
Some called this update "mobilegeddon," but it turned out the impact was not nearly as severe as the Panda update — perhaps because publishers have a strong incentive to please mobile users who now drive more than more than half of all web traffic.  
3. Too many ads
In 2014, Google's "top-heavy" update started punishing publishers who crammed massive quantities of ads into the "above-the-fold" portion of their websites. Like the spammers of the era before Panda, these sites are primarily focused on making money, not serving up useful and informative content. Google concluded these sites weren't serving the needs of web searchers.
4. Pop-ups on mobile
In 2017, Google clamped down on those annoying "interstitial" ads that can take up the whole screen of a smartphone. This one applies only to mobile sites, and only to interstitials that take up the full screen. (There are certain exceptions for non-commercial content like cookie notifications and age verification.) Smaller pop-ups that leave some of the screen showing are still allowed.
5. Pirated media
This update applies only to sites that deliberately violate copyright law and let anybody download music, movies, and software. This update puts the onus on website owners to prevent unauthorized storage of pirated media on their sites — if your site gets multiple copyright complaints, you could be downranked. 
Updating your site to avoid Google penalties
These quick tips can keep you on Google's good side:
Scan your site for duplicate or plagiarized content.

 

Check out this Quora.com article

 

for the best options in online plagiarism checkers.
Make sure you aren't keyword-stuffing. Keywords and phrases should adapt to the natural rhythm of sentences and paragraphs, and should not be forced.
Optimize your website to make it mobile-friendly — if you haven't already. Make sure it's designed to be responsive, which means it will be readable on any mobile device.
Get more of your best content "above the fold" so it's easy to read and you're not annoying visitors with an explosion of ads.
Tweak mobile pop-up designs to abide by Google guidance.
Make sure you have legal rights to all the media posted on your site.
For more on Google penalties, see this excellent article from SEO expert Neil Patel. 
Keeping up with Google algorithm updates
The SEO world has a wealth of places to check for the latest news on Google algorithm changes. Here are a few fine places to start:
SEO is central to content marketing
At Blue Star Design, we believe high-quality articles, blogs, eBooks, and other collateral form the bedrock of content marketing success. And this is exactly what Google is encouraging everybody to do online.
But producing quality content is not enough. You have to create content strategically based on what people are searching for online. That means understanding the ranking factors at the core of Google's algorithms and doing all you can — within Google's guidelines — to optimize your copy so searchers find it online.
Thus, SEO remains one of the cornerstones of content marketing. If you're unsure how Google views your website, call us for a free assessment that will show what you need to do and explain how to get there.