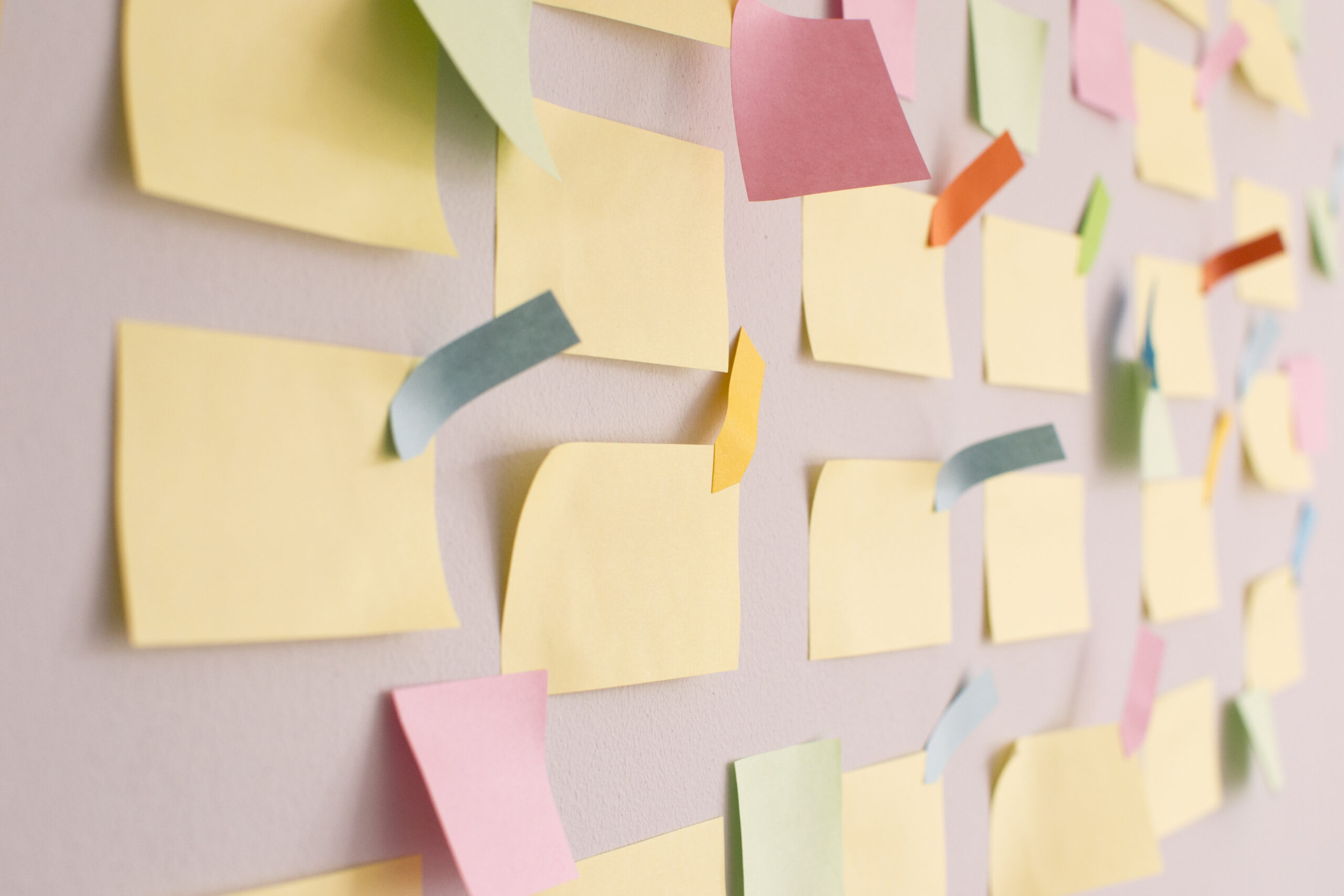 Does your team struggle with project management and staying organized? You're not alone. Only 22% of organizations use project management software, even though 77% of high-performing projects use project management software. Marketing teams have several projects in progress at once, and that's why we sought to find a tool that will help us and our clients stay organized.
What is Trello?
There are a lot of useful tools out there. But when it comes to simplicity, efficiency, and user-friendliness, Trello stands out from the crowd for our team. Trello is a collaborative project management tool that we use internally and with clients. 
Trello Boards give a holistic view of projects, who is working on them, and their status. When initiating a project, the initiator creates a "Card." Everything needed for a project can be attached to the Card, including photos, documents, external links, due dates, as well as a place for comments and communication. There is the option to turn on notifications for each Card, for when new materials are uploaded, or new there are new comments. 
Trello helps us both internally and externally
We use Trello for the Blue Star Design creative team internally. Our creative coordinator has a Board designated for distributing projects amongst the team. After the projects are assigned, our team updates the Card as the pieces progress. The status updates allow our creative coordinator to know where projects are when clients ask their status. Additionally, this helps our team manage their workloads.
Trello especially comes in handy when working with our clients. When they need design work, a blog, or social media posts, they initiate it by creating a Card with all the necessary details and tag our team members. The tool allows us to easily ask questions, request approval, collaborate ideas, share files, and more.
What other tools can set your team up for success?
Check out our blog on our top 3 project tools for content creation.
What does the process look like?
Our Trello Boards have columns going across horizontally (called Lists) that show the status of projects: Project Initiation/ideas, In Progress, Ready for Review, Approved. As the project progresses, we move Cards to the appropriate List.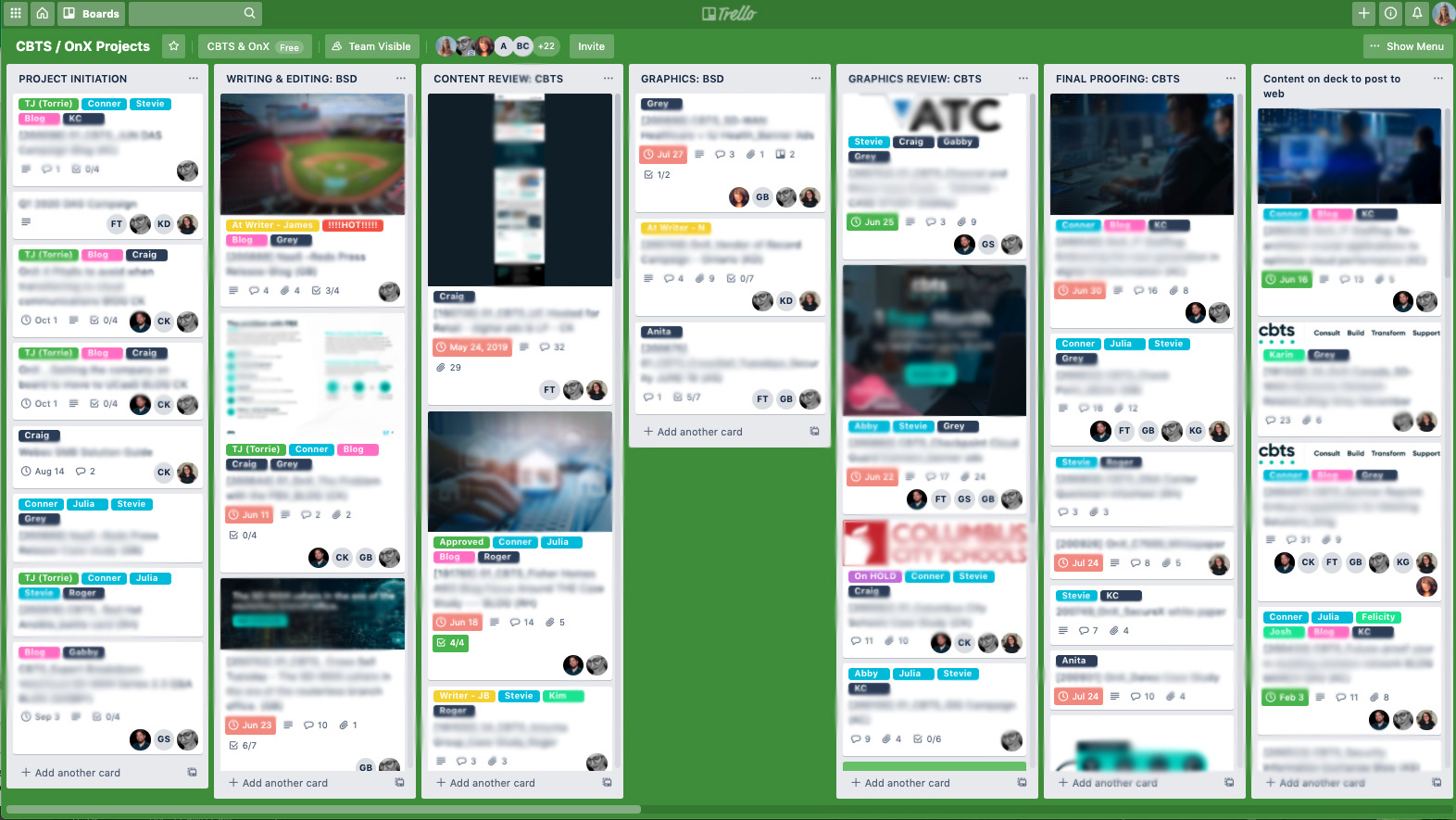 Labels are also attached to each Card to clarify the status, everyone working on the project, and what type of content it is.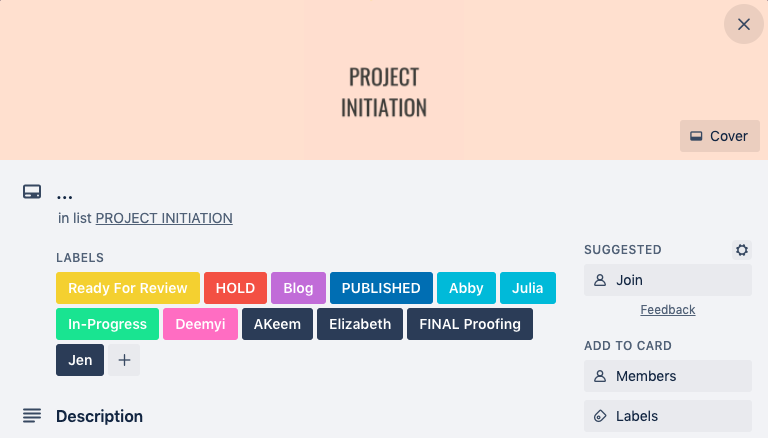 Tips for optimizing your Trello experience
How can you make the most out of your Trello board? Here are a few features that will improve your organization and workflow:
Use labels for easy-to-see details:

You can create various labels in different colors that will show at the top of the Card. We have labels for each of the stakeholders within our clients so that they can quickly see which project is theirs without clicking into the Card. We also have labels for project status and with the names of our internal team members.

Using members vs. labels:

Trello allows users to add "members" to a Card. If a user is as a member, they will receive an email every time the Card moves to a new List, a file is attached to the Card, or there is a new comment. If you want to ensure that you do not miss any activity, we recommend that you add yourself as a member to a Card. If you do not want a flood of notifications, we recommend using a label with your name.

Use templates for commonly used formats:

Trello allows you to draft templates for your Cards. We use this tool as a mold when requesting all the details we need from clients to complete a project. 

Use checklists for projects with multiple tasks:

The checklists feature allows you to keep all parts of a large project on one Card, and you can easily see the progress made.

Add due dates:

Adding a due date is not only a visual reminder of when the project is due but also triggers a notification 24 hours before it is due. Another added benefit of this tool is that it adds the Card to the calendar feature in Trello. 
Project management doesn't have to be a hassle. With the right tools, you can have the status of projects, the materials you need, and more at your fingertips. Want to learn more about making workflows more manageable? Check out our blogs here.