Medication is only effective if people take it, and in the case of some prescription pharmaceuticals, cost and lack of access can prevent patients from taking a desperately needed drug.
For individuals at risk of contracting HIV, access to pre-exposure prophylaxis (PrEP) is vital to prevent exposure to the virus. To create awareness about PrEP and improve access, Cleveland healthcare partners The MetroHealth System and University Hospitals launched a grant-funded outreach program called Pop It To Block It (Pop2Block) targeting at-risk community members.
Pop2Block's mission is to encourage populations with increased risk of HIV infection to contact PrEP navigators who assist with gaining access to PrEP prescriptions. Beginning in 2020 and expanding campaign scope in 2021 and 2022, Pop2Block staff teamed with Blue Star to reach a greater share of its target audience.
The challenge
The Pop2Block team first contacted Blue Star for assistance with its 2020 marketing strategy. The overall goal was to reach a target demographic of lower-income LGBTQ+, Black, and Hispanic young adults at greater risk for contracting HIV. Organizers behind Pop2Block wanted a marketing strategy that included billboards, bus signage, and direct mail in locations where the target demographic had high foot traffic.
This strategy was made difficult by the onset of the early COVID-19 lockdowns in 2020, which reduced foot traffic and made initial signage options ineffective.
"So, we changed our strategy and redirected those grant dollars to build a website, started writing digital content, and used social media as our marketing tool," said Blue Star CEO Julia Briggs.
Additional funding for 2021 was used to build upon this digital foundation by launching a three-month billboard, signage, and direct marketing campaign supported by the website and social media presence established in 2020. The physical media campaign was put into action from March to May 2021, leading up to Pride Month in June.
One guiding metric of success for this expanded outreach campaign was to achieve at least one new PrEP user, thus preventing a single HIV infection within the community. By avoiding one HIV infection, the local healthcare system saves on average $229,800 in medical expenses over the cost of treating an HIV-infected individual and up to $338,400 for an HIV-positive patient presenting early and remaining in care.

The solution
With funding in place to expand Pop2Block's scope for 2021, Blue Star researched zip codes to target for the outreach campaign. Using Every Door Direct Marketing (EDDM) information through the United States Postal Service allowed Blue Star to specify mailing routes by poverty rate, age range, and other criteria for hyper-targeting specific populations. The placement of billboards, bus stop advertisements, and the location of direct mail deliveries were all based on this research, narrowing Pop2Block's focus and reaching target audiences with pinpoint precision.
The Blue Star team designed, printed, and sent direct-mail oversized postcards in tandem with a banner ad campaign aimed at IP addresses associated with the mailing routes. "Clean graffiti" was employed in areas with heavy foot traffic from target demographics. The Savage Way provided this eco-friendly outdoor advertising, power washing custom Pop2Block imagery on sidewalks near our billboards and bus station signage. Clean graffiti requires no permits and uses no ink, making it appealing and cost-effective for a ground-level marketing campaign.
Blue Star established the Pop2Block brand in 2020, and all marketing assets follow design trends that would appeal to the targeted demographic. Direct mail, posters, signage, advertisements, and online graphics all featured individuals representative of the target audience and were placed in areas – in the physical world and on the web – with a high concentration of people within those communities.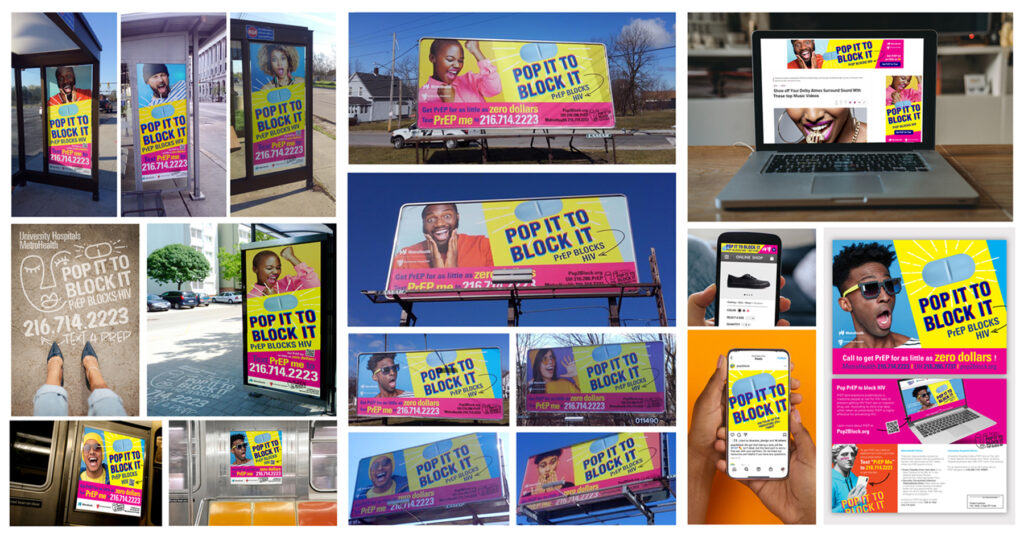 The results
Thanks to thorough research and attention to detail, Blue Star was able to help Pop2Block maximize the effectiveness of its marketing budget and meet its outreach goals. At the end of the three-month outreach campaign, Pop2Block's dedicated PrEP navigators had received 46 text messages and cold calls—21 of these contacts followed through and scheduled PrEP appointments.
The campaign's impact was also reflected in the analytics gathered from Pop2Block's website and social media channels, all created and managed by Blue Star. By the end of the campaign, Blue Star's efforts helped generate 37,229 web impressions, 936 engagements, and 524 clicks on pop2block.org.
Julia Briggs, Blue Star CEO and Chief Creative Officer, said authenticity and empathy were vital to the campaign's success. The team strived to create a voice and brand to connect with community members, tell the story simply, and establish trust and confidence to convince the audience to act.
"Often, healthcare organizations apply grant dollars to the bottom line to hire or retain staff, leaving inadequate marketing budget and relying on healthcare professionals for outreach campaigns. With healthcare staff often stretched for time or lacking the experience to create effective marketing campaigns, patient experience with the healthcare brand suffers, and many will disengage," said Briggs. "What we strived to do with Pop2Block was design campaign elements that were approachable and relatable. We know the work we're doing resonates with the intended audience when they're responding."
Contact us today to learn how a thoroughly researched media outreach campaign can grow your brand and capture your target audience